Upcoming EVENTS & Tastings
Two Shepherds #GrenacheDay 'Six Degrees of Grenache" Tasting (and Winery Preview!)
Friday, September 18, 2015 from 3:00 PM to 7:30 PM
AT our new winery at 7763 Bell Rd, Windsor
International #GrenacheDay is Here, Friday Sept 18
On 9/18, once again Grenachistas all over the world will celebrate this beloved variety. If there is one thing we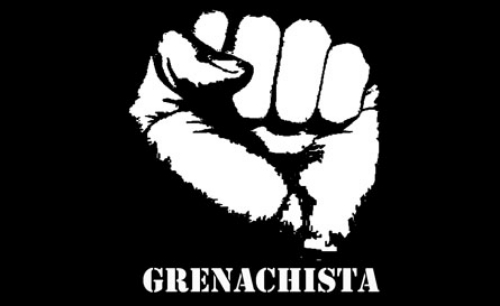 DO know (and love), its Grenache. AND we'll put our cork where our mouth is, and open up the entire current Grenache based lineup with SIX different Grenache wines. The tasting will be held at our new facility that we recently announced. (Read about it here. )
Our Grenache Day Lineup
2013 Caties Corner, Russian River, Grenache Blanc. From the only acre in the Russian River Valley, grafted for us by iconic Saralee Kunde. William was the first to harvest GB in AVA history. 50 cases crafted.
2013 Saarloos Vineyard, Santa Ynez, Grenache Blanc. The wine that put us on the map and our most beloved white by our customers, and one of the reasons why William started Two Shepherds. Our 'big' production at 200 cases.
2013 Grenache Gris, Gibson Ranch, Mendocino. Perhaps William's favorite white of 2013. Sadly only 90 cases made of this 105 year old vineyard, and more sadly still, the only vintage as we can't get access to more, to date. (We might start a petition or something. )
2014 Grenache rosé, Ceja Farms, Sonoma Coast. Our first rosé from Grenache Noir and this cool climate vineyard. We wish we had made more than 60 cases of this slurpy, 12% alc summer fling. (That we think rocks in the Fall too!)
2012 Pastoral Rouge, Russian River Valley. Our flagship red Rhone blend (please don't call it a GSM) always based on Grenache from the beloved Saralee's Vineyard (45%) along with 30% Mouvredre and 25% Syrah. A unique elegant blend more akin to a cousin of Burgundy than Châteauneuf-du-Pape, at only 12.5% alcohol. 200 cases crafted

 

!! 2013 Grenache Noir, Saralee's Vineyard, Russian River Valley. It's alllmost ready for release, so we are going to have a sneak preview. Our personal red favorite (if you are allowed a favorite out of 15 children) and most popular red with our followers. Graceful, poised balanced. You have to promise to drink it from a Burgundy glass to buy any! 75 cases made.
ALSO to celebrate:
Our $15 tasting fee is only $10, waived with purchase, and no charge for 'Flock' Members, Trade/Media
15% off 6 bottles, 20% off a mixed case, Friday Only, of these Wines. (Flock Members receive an Extrra 5% discount and a hug.)
New Winery Preview: Right now the new facility is very much in harvest mode, with 'hospitality' enhancements and touches targeted for November, so we'll advise its rustic. But then again we have been doing our tastings with a table cloth over barrels for years, so for now it's the same! (We do plan some enhancements in Fall.
(Please) RSVP and Register online to win: Registering helps us make sure we have enough nibbles, glasses and staffing. We will draw one person to attend one of our upcoming vertical or blending seminars featured in our Indiegogo Campaign. (Your choice, even the sold out Grenache Blanc one.)
Can't join the party? You may also go to the online store to order new releases. Residents of CA, NV, and AZ get flat rate $10 shipping on 1-12 bottles. http://store.twoshepherds.com/

Look forward to seeing you there, cheers!